Whitney Houston's Death Ruled Accidental
Cocaine use and heart disease contributed to her accidental drowning.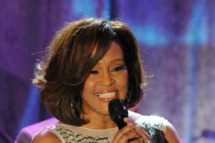 Whitney Houston's official causes of death are accidental drowning and the effects of heart disease and cocaine use, the L.A. County coroner's report states. According to the report released this afternoon, Houston's death did not involve any "trauma or foul play," so human trash heap Nancy Grace can rest easy. Houston's autopsy revealed that she also had marijuana, Xanax, Flexeril (a muscle relaxant), and Benadryl in her system when she died, but the report says that drugs "did not contribute" to her death. She was 48.