Your Weekly Community Ratings Update: They're Down
And yet it was still the No. 1 show on NBC last night.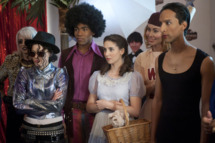 This is not so cool-cool-cool: After a strong return last week, and despite the presence of Very Special Guest Star French Stewart, Community saw its ratings drop by about 20 percent last night. Per preliminary Nielsen numbers, Thursday's half-hour averaged about 3.9 million viewers (down from 5 million last week) and a 1.7 rating with adults under 50 (vs. a 2.2 for the return). On the positive tip, Community was NBC's No. 1 show Thursday in the key demo last night (30 Rock fell to a 1.5 rating), and the show did beat American Idol among men under 35. Also, Thursday's number remained a tick higher than the show's fall average. The real test for Community will come next week, when the big, bad Big Bang Theory returns to CBS. Meanwhile, a quick note about Fox's Touch: The Keifer Sutherland drama did well in its official premiere, drawing just under 12 million viewers and a 3.2 rating with adults under 50.