Zooey Deschanel in Talks for Time Travel Love Story
From the director of <em>Love Actually</em>.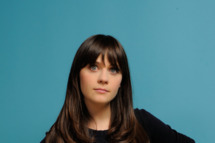 Before the success of New Girl, Zooey Deschanel was usually cast as the love interest in dramas and romcoms, but now that she's about to go on hiatus from her hit show, what kind of role will she go after with her new clout? Well ... Variety reports that she's circling another love interest, though this one is in a movie from romcom titan Richard Curtis (Love Actually). Called About Time, it will star Domhnall Gleeson (who played Bill Weasley in Harry Potter), as the descendant of a family of time travelers who falls for Deschanel's character. Time-jumping romance? Well, go with what works!