Angelina Jolie Is Wearing an Engagement Ring! [Updated]
Made of real diamonds.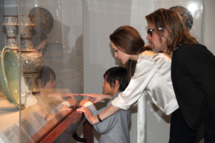 Note the date, time, and your exact location, everyone, for you will want to remember where you were when you learned that Brangelina are (most likely) engaged. Angelina Jolie is wearing a diamond on her left ring finger! And the jeweler who designed it — with Brad, of course, who was "always heavily involved" — is calling it an actual "engagement ring." Apparently, the ring has been in the works for over a year, and from the looks of the photo, it is appropriately gigantic. (We don't have karat information, but there are many diamonds involved, according to the statement from Asprey & Garrard.) UPDATE: Brad Pitt's manager has confirmed the engagement! Aaah! "Yes, it's confirmed. It is a promise for the future and their kids are very happy," Pitt's manager Cynthia Pett-Dante told USA Today. "There's no date set at this time. Brad designed the ring." It is almost too much excitement to bear.