Bravo's New Series Are Very Bravo-y
Rich people stuff, etc.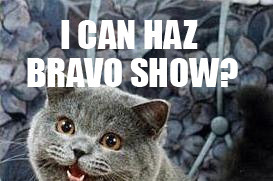 Bravo announced its newly greenlighted series today, so mark your calendar for a year from today, which is when they will announce the franchise/spinoffs of said new shows. Joining the illustrious ranks of Flipping Out and Million Dollar Listing: Los Angeles are Silicon Valley, starring "internet entrepreneur" Randi Zuckerberg; Huh?, starring Ben Huh, the founder of I Can Has Cheezburger; Below Deck, which follows the "upstairs and downstairs" worlds on luxury yachts; Gallery Girls, about young women who work in New York galleries; Decades, set within a vintage boutique; LA Shrinks, which is about, true story, L.A. shrinks, Newlyweds: The First Year, which follows couples through their first year of marriage; and Miss Advised, about "relationship experts" Amy Laurent, Emily Morse, and Julia Allison. Also, Kandi Burress from RHOA is getting her own show called The Kandi Factory (eesh). Bravo's trying to get into the scripted game, too, and has ordered 22 Birthdays, about a group of parents at a private school, and Blowing Sunshine, set in a posh rehab facility. Talk about "on brand."