Catching Fire Down to Two Possible Directors
<em>Moneyball</em>'s&nbsp;Bennett Miller and <em>I Am Legend</em>'s&nbsp;Francis Lawrence.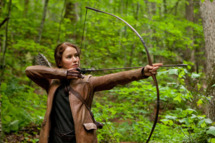 Steel yourself for a plethora of sports-themed Moneyball/Hunger Games headlines or for hordes of confused viewers wondering how J-Law's dad found his way behind the camera for Catching Fire, as Bennett Miller and Francis Lawrence (not really Jennifer's father, but there will be confusion) are reportedly Lionsgate's final two directors in contention for the sequel. Deadline predicts Miller as the likely candidate after his big success with Moneyball, but mentions Miller's plans to film Foxcatcher conflicting with Catching Fire's scheduled August start. The L.A. Times notes Lawrence, who did 2011's Water for Elephants, has special effects chops honed on big-budget productions like Constantine and I Am Legend. While Miller and Lawrence joined the already sizable stable of potential directors just a couple days ago, the word is now that one of these two could be chosen as soon as the end of this week.