Chris Pratt: 'I'm Not an Actual Seal'
But he is playing a Navy SEAL.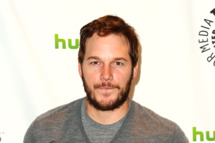 Chris Pratt says he's channeling his serious side for his upcoming role in Kathryn Bigelow's Osama bin Laden Navy SEAL movie. "You're not going to see some weird Andy pratfalls in the middle of the Osama bin Laden raid where I fall down and have pie on my face," he tells GQ. Disappointing! Pratt, an avid outdoorsman, also says that his enthusiasm for and background in hunting might have helped him land the role. "I was like, 'It's probably good for [Bigelow] to know that I like to kill shit,'" he says. Details about the movie are under pretty tight wraps, but Pratt did reveal one tidbit. "I can say this: I'm not an actual seal. I am a human."