Claire Danes Has Also Noticed Some Changes in Leonardo DiCaprio's Appearance
She and Winslet agree.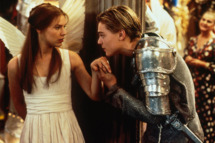 Yesterday, tireless Titanic 3D promoter Kate Winslet turned her critical focus from Celine Dion's "My Heart Will Go On" to Leonardo DiCaprio's aging, and the result was … very honest. "We do look very different," she told U.K. chat show Daybreak. "You know, he's fatter now — I'm thinner. It's true, though!" Before you take Kate Winslet to task for fat-shaming Leo, you should know that she is not the only former DiCaprio co-star making observations about his aging process. Cue Claire Danes, to U.K. magazine ASOS: "I saw Leo the other day and in some ways, our dynamic is absolutely the same, but then it's like, 'Oh, but wait, we're big fat grown-ups!'" Granted, the use of the first person plural makes that comment a little more generous, but, man, it's rough out there for a formerly skinny nineties heartthrob.