Dark Knight Rises Has More Than an Hour of IMAX Footage
The most ever for a big Hollywood movie.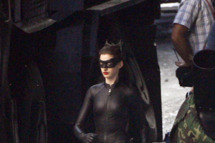 Though the IMAX format is experiencing a cinematic renaissance — it's a way to give your director a bigger canvas and goose your box office at the same time — its use is often hampered by one dirty open secret: Those IMAX cameras are loud as hell, making them all but unusable in dialogue scenes (unless you extensively overdub them). Still, Christopher Nolan will not be deterred! The Wall Street Journal reports that Nolan, already an IMAX superfan, has shot over an hour of the upcoming The Dark Knight Rises in the format, by far the most it has been used in a major Hollywood issue. No wonder you can't understand Bane.