David Byrne, Fatboy Slim to Mount Imelda Marcos Musical
It'll go up in April 2013.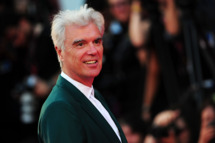 Remember David Byrne's 2010 record Here Lies Love, a concept album about Imelda Marcos co-produced by Fatboy Slim and featuring vocalists like Florence Welch, Sharon Jones, Cyndi Lauper, and Tori Amos? (If you can't remember something like that with all those people involved, we're not sure we can help you.) Anyway, Byrne has performed some of the songs before in concert, but the Public Theater is going to give Here Lies Love an actual staged production in April 2013, with Bloody Bloody Andrew Jackson director Alex Timbers helming the musical. It's a critical shoe-in.