Has Sofia Coppola Compromised the Bling Ring Case?
A detective she hired may now have his testimony questioned.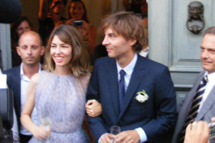 We're looking forward to Sofia Coppola's new movie The Bling Ring, and not just because Emma Watson has a tramp stamp in it, or because it opens with a quote from Nicole Richie's Twitter. However, the LA Times reports that Coppola may have jeopardized the still-pending case the movie is based on — the alleged burglaries of Paris Hilton, Lindsay Lohan, and other celebrities by a fame-hungry bunch of friends — by employing the detective who busted the Bling Ring and even giving him a role in the movie, which the defense may use to argue that the detective's motivations and crucial testimony have been tainted. Ironically, Coppola also put some of the Bling Ring members on the payroll, too, in order to secure their life rights. In Hollywood, it appears crime truly does pay.