Dirty Projectors Album Out in July
<em>Swing Lo Magellan</em>, coming soon.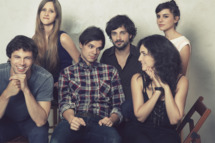 And it's official! "Gun Has No Trigger," the new Dirty Projectors song that popped up unannounced last Friday afternoon (check it out!) is in fact the lead single off a real album that will be released to the world in this calendar year. Swing Lo Magellan is due July 10, and it will be, according to Dave Longstreth via press release, "an album of songs, an album of songwriting." The names of said songs can be found here, if you are interested in spending the next three months mining the track list for higher truths, musical or otherwise. Anyway, new Dirty Projectors! Great news.