Donald Glover Will Play Tracy Jordan on 30 Rock's Live Show
Gambino up in Rock Center.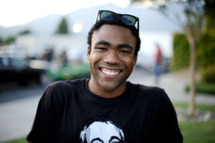 Remember "Werewolf Bar Mitzvah," circa 30 Rock's first season? Well Donald Glover, then a writer for the show, appeared on the full version of the track, and now he's returning for the show's upcoming live episode to portray a younger Tracy Jordan. "Donald does an excellent Tracy Morgan-slash-Jordan impression," executive producer Robert Carlock tells TVLine. Looking forward to it, Donald. The episode airs April 26.