Theater Review: Don't Bother With Don't Dress for Dinner
The gags all unfold at half speed, as if forestalling mortality.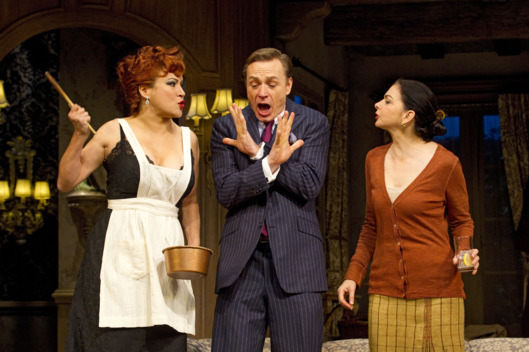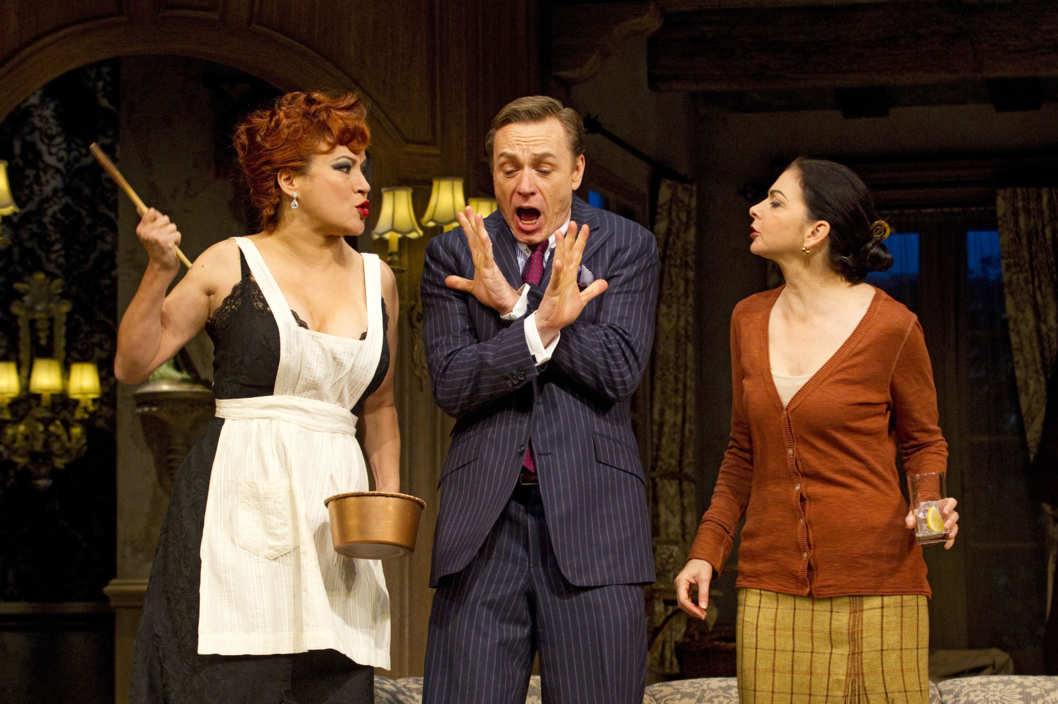 Remember Boeing-Boeing, the sixties farce by Marc Camoletti revived in technicolor by Matthew Warchus a year ago? Well, imagine that Gallic trifle without the snap and savor of Warchus's direction, without star turns from Mark Rylance and Kathryn Hahn, and without the Technicolor, and you've got the wan door-slammer currently playing on the Roundabout's now-officially cursed American Airlines stage. Don't Dress for Dinner is a comedy written by Camoletti towards the end of his career, which might explain why the gags all unfold at half speed, as if forestalling mortality, and at maximum spasticity — there's more desperate flopping on display than is normally observed in an entire season of Duke basketball.
In a wearying round of interchangeable paramours — a man, a wife, a mistress, a cook, her lover, a mistaken identity or two (it's French, okay?) — philandering Bernard (Adam James) has invited his bodacious lover Suzanne (Jennifer Tilly) to his country house, wrongly believing his wife, Jacqueline (Patricia Kalember), will be away. His cover story: a boys' weekend with his bosom friend Robert (Ben Daniels). Little does Bernard know, Jacqueline and Robert are having an affair. Even littler does he know, the cook he's hired for the weekend (Urinetown's Spencer Kayden, the show's one consistent bright spot) shares a nickname ("Suzie") with his mistress, which leads to endless confusion. And littlest of all does he know that this entire situation will be executed with near-total gracelessness. Sex farces are always on the precipice of being merely irritating, and casting them to ensure complete sexlessness is a great way to tip them into the abyss. Daniels and Kalember have no spark whatsoever; James is merely a ball of smarm. Tilly is Tilly — that is why you hire her. But she adds nothing. There's an ottoman downstage center, pulling focus, holding all the actors hostage, and even taking a bow in front of the curtain. By process of elimination, I nominate it the star of the show.