Final Dark Knight Trailer to Precede Avengers
<em>Avengers </em>hits theaters May 4.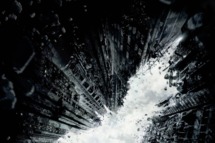 Superhero overload! Moviegoers planning to see The Avengers, which hits U.S. theaters in just under two weeks, will also get a little taste of Batman with their Captain America and Iron Man. The Hollywood Reporter has confirmed that the third and final trailer for The Dark Knight Rises will premiere ahead of the Marvel Studios film. Maybe this time we'll actually see the caped crusader in action, something the two previous trailers skimped on.