Fox Plans to Animate Viral Comic Axe Cop
It will air in late night.<br /><br />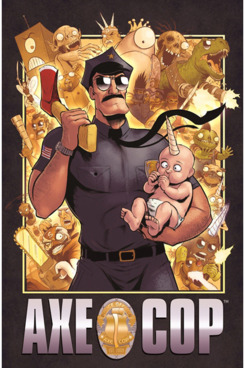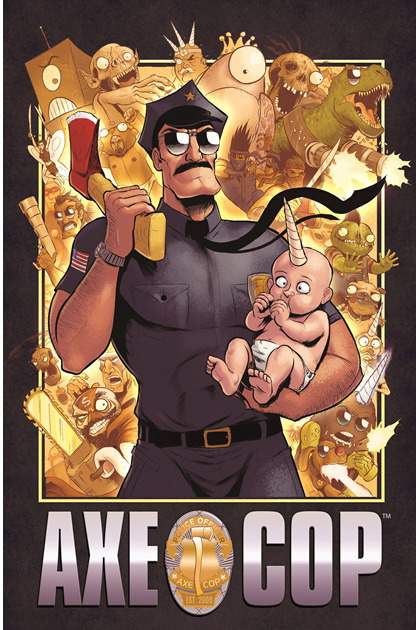 It sometimes seems as if any 7-year-old can end up with a TV show, but now, this is actually the case. Fox has green-lit production on an animated comedy version of Axe Cop, the hit comic-book franchise created in 2010 by 7-year-old Malachai Nicolle and his older brother (and chief illustrator) Ethan. For the uninitiated, Axe Cop is about an incredibly earnest law enforcement officer who wields a firefighter's axe as a weapon and, early on in the franchise, had a flute as a sidekick and boasts a T-Rex as a pet. The franchise boasts some celebrity friends, including Damon Lindelof, who last year tweeted that he found Axe Cop "staggeringly awesome." Fox obviously likes it, too, but don't count on seeing Axe Cop in between The Simpsons and Family Guy — at least not right away.
That's because the TV take on the comic is actually the first project officially put into development by Animation Domination HD (or, um, ADHD), the nascent alternative animation production unit headed by Adult Swim alum Nick Weidenfeld. Fox has ordered six fifteen-minute episodes of the show and plans to debut it early next year as part of its previously announced late-night Saturday animation block. The network expects to air about an hour of first-run animation programming, including a number of recurring series and a slew of animated shorts. Add in some acquired animation, and Fox hopes to have a 90-minute block of programming to air opposite Saturday Night Live by sometime next year. ADHD properties will also be widely available on digital platforms.

As for Axe Cop, Weidenfeld told Vulture he's had his eye on the title since he was at Adult Swim, but for varying reasons, a deal for the project could never get done. Now that he's finally landed the property, Weidenfeld says his next step is finding a showrunner "who has a good idea of how to adapt it, without ruining what's great" about a story whose origins hail "from the mind of a 5-year-old." "I want to talk to all sorts of people [for the showrunner] gig, as long as it's someone who understands" the show's unique humor, Weidenfeld added. Hey, you know: Lindelof's a fan, loves comics, and currently is in need of a TV show ...