Girls Debuts to Just Okay Ratings
But don't worry: Season two is in the bag.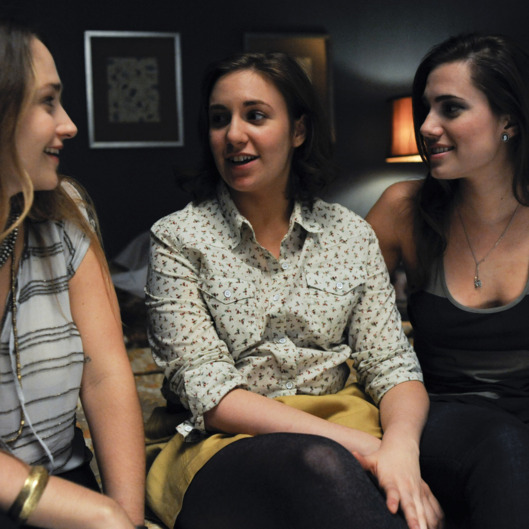 After an extended session of media foreplay, HBO's Girls finally hit the small screen Sunday and produced decent, if not spectacular, ratings. Airing at 10:30 p.m., the pilot of Lena Dunham's comedy drew 872,000 viewers in its initial airing. For comparison's sake, lead-in Eastbound & Down was watched by 1.1 million folks, while megahit Game of Thrones brought in 3.8 million. There are lots of ways you can look at this number, but here's the most important analysis: Girls did well enough last night to virtually assure itself a second season. That's because HBO almost always renews its shows for second seasons, except when horses die or critics hate it (or, worse, ignore it). Given that Girls is also not a particularly expensive show to produce, the loud and steady buzz about the show the past few weeks means season two is a no-brainer, since HBO is a network which survives by having a collection of must-see programming for varying niches. Girls checks off several boxes quite spectacularly, making its exact ratings a secondary concern. Still, for the Nielsen junkies playing at home, let's break down the other takes on What the Numbers Mean.
Measuring against hype and expectations, the premiere of Girls was a bit underwhelming. After all, the show was one of the most critically kvelled-about works of television in a long, long time (just check out the number of 100 percent positive reviews it landed on Metacritic). And much more low-key HBO comedy debuts have done better in recent years: Bored to Death bowed to 1.1 million viewers, while the recently canceled Hung finished its final season with about 1 million folks still hanging on (the show had debuted with nearly 3 million fans, thanks to a direct lead-in from True Blood). And yet, unlike those other shows, Girls debuted at 10:30 p.m., so it didn't have the advantage of a monstrously large drama lead-in to boost its numbers. It only had Kenny Fucking Powers, whose audience is about one-third that of HBO's biggest dramas. And, according to an HBO spokesman, Girls pretty much doubled the ratings for the show it replaced in the 10:30 Sunday time slot, Life's Too Short. What's not known yet is how Dunham's show did in key demo groups; it's possible it overperformed with younger audiences and completely alienated older folks. Also worth mentioning: Next week, Girls will get a new, slightly more compatible lead-in, when new Julia Louis-Dreyfus comedy Veep debuts.