Jessica Chastain May Join Iron Man 3
She's never not busy.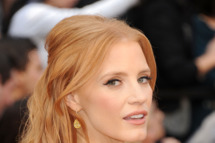 That Jessica Chastain, she really enjoys acting. Digs it so much, in fact, she may add Iron Man 3 to her already infinitely booked slate, Deadline reports. The role would be opposite Robert Downey Jr., "a sexy scientist every bit as smart as Tony Stark." (Side note: If you're beginning to doubt the existence of female roles in the Iron Man films that aren't preceded by the term sexy — "sexy assistant," "sexy newscaster," "sexy Scarlett Johansson" — that's understandable.) Apparently the possible casting is a circle-back for Chastain; she was approached for the role earlier but somehow thought she'd be too busy.