Judd Apatow on the Girls Backlash: 'Hopefully People Will Fight About It Every Week'
"It's supposed to be about people who are a disaster and privileged."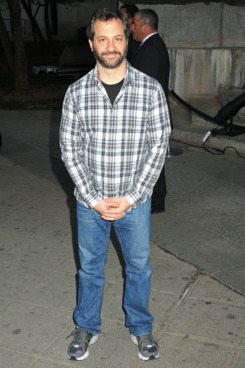 Judd Apatow arrived to last night's Vanity Fair party for the Tribeca Film Festival a little worried about his appearance. "I thought this was like a film festival, where you don't dress up!" He looked around at the guests in formalwear. "I got to go in there and talk to Graydon Carter in jeans? Although I love my John Varvatos shirt. He didn't tell me there was a dress code." Despite his sartorial concerns, Apatow was more than game to talk Girls, on which he's an executive producer, and he didn't seem to be taking the first round of criticism too personally. "When we made it, we always knew that it was a show you should fight about," he told Vulture when we asked about the backlash. "It was built to be a show that you'd have to defend or argue about — for some people, it would make them angry — and we go over that terrain for the course of the ten episodes. So hopefully people will fight about it every week! Not just one week."
What about the more specific complaints — that the characters are irritating or overprivileged? "There's funny things to hate about it, because it is about people who are self-entitled and smart and screwing up their lives. It's supposed to be about people who are a disaster and privileged, and every time you do something about people like that, people go, 'Why are they like that?' Well, because that's the point of the show. The joke of it. People go, 'Why are men immature in your movies?' Well, because they are immature and it's funny to see them try to figure it out." Does he think the show will find an audience with men, we asked? "I think guys like it as much as women. They get into it. Girls are just as demented and neurotic as guys." And then the denim-clad Apatow bravely headed into the party to face Graydon Carter.