Justified Wants Eric Stonestreet As a Baddie
"Because he's a Kansas boy."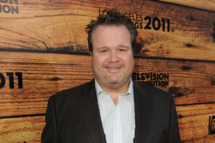 Justified is looking to give Modern Family star Eric Stonestreet a chance to flex some darker chops than his occasional turns as Fizbo the Clown. Showrunner Graham Yost says Stonestreet's a fit for the show "because he's a Kansas boy, and he'd like to play a bad guy." Providing the scheduling works with Modern Family, the "just great" Stonestreet would join a line of villains including Neal McDonough's just-wrapped third season turn, Margo Martindale's Emmy-winning run, and Jeremy Davies's Emmy-nominated spot. Oh, and another actor on Yost's Justified bucket list: Jeff Goldblum.