Kanye Doesn't Need Your Fancy Brand-Name 'Theraflu,' Anyway
He changed the song name.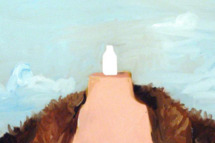 Mere hours after Kanye West dropped "Theraflu," his cough-enhanced ode to Kim Kardashian, representatives for the cold medicine in question started a legal offensive against 'Ye and his new song. The suits apparently won: Kanye has made the "creative decision" to retitle "Theraflu" as "Way Too Cold," and George Condo has revised the single's artwork accordingly. ('Ye shops generic now. Unexpected!) Meanwhile, on the topic of "Theraflu," New Jersey Nets owner Mikhail Prokhorov decided to weigh in on the Kris Humphries line ("Lucky I ain't have Jay drop him from the team," in reference to Jay-Z's partial ownership). "Kris has nothing to worry about," he told the Daily News. "I support my players, and I'm on his side in this epic battle." So that makes two people and 13 billion dollars on Team Humphries.