Liam Hemsworth to Star in Paranoia
He may act with big boys Harrison Ford and Gary Oldman.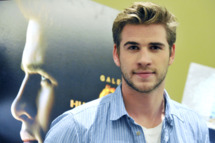 Officially no longer just Miley Cyrus arm candy, Liam Hemsworth has been tapped to star in Paranoia, a spy thriller from Robert Luketic (21, Legally Blonde, Killers). While no one should feel any surprise at the Hunger Games stars scoring plenty of roles in the foreseeable future, the casting here has a nice bonus for Hemsworth: Harrison Ford and Gary Oldman are "in advanced negotiations" to join the film, which will start production this summer. Liam Hemsworth: The next Harrison Ford and/or Gary Oldman.