Michelle Williams Is Open to a Dawson's Reunion
If James Van Der Beek asks, at least.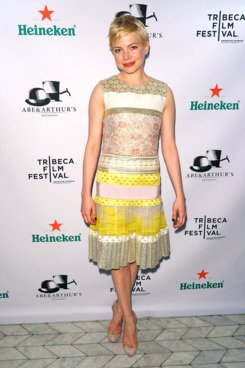 At last night's Tribeca Film Festival premiere of Take This Waltz, Michelle Williams very thoughtfully declined to side with any of the characters in the movie's central debate (put plainly: Should her character cheat or not?). "Everyone sees themselves in these characters," she told us. "Either they're the one that's been left behind, or the one who's moved on, or the one who's been wronged. It's very personal, and people reveal a lot about themselves by who they side with." But Williams was willing to commit more fully to our questions about a possible Dawson's Creek reunion — or, at least, she was open to the idea, once we asked her about Don't Trust The B-- In Apartment 23 and told her that James Van Der Beek was willing. "He has my e-mail!" she responded, laughing. "He has my home phone, and my cell phone, so we talk … " And that means she'd do the show, if he called? "He could totally ask! I've always said, I'm totally up for reunion tours, reunion shows, so we can do that. I've always wanted, my best friend [Busy Philipps] is on Cougar Town, and we've always talked about wanting to go be on that show, too. It's just timing, because of L.A. and New York, and it hasn't happened." Your move, Van Der Beek!