Neil Diamond Is Off the Market, Ladies
His three-decades-younger manager–true love snagged him.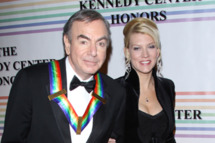 Several musicians were married this weekend! One was 71-year-old Neil Diamond, newly wed to his three-decades-younger manager–true love Katie McNeil! (Totally should've taken a page out of Jack White's book and snagged her last name, dude; Neil McNeil!) The other was Mumford & Sons front man Marcus Mumford, who married Drive and Wall Street 2: Michael Douglas's Revenge actress Carey Mulligan in a ceremony with people like Jake Gyllenhaal and Colin Firth and Sienna Miller! Okay!