New Passion Pit Album Coming in July
No P.S. 22 chorus, though.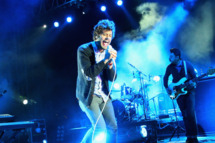 Passion Pit, the Boston electro-pop prepsters who made the rounds back in 2009 with their debut album Manners, are back at work. They just announced the details for their sophomore album: It's called Gossamer; it'll be out July 24; and it will feature contributions from Nico Muhly and a Swedish a cappella trio. Vulture was sort of hoping for another P.S. 22 chorus feature, but we guess those kids are too grown-up and important now.