Nicole Kidman May Have Landed Big Grace Kelly Role
Olivier Dahan's <em>Grace of Monaco</em>, sought after by "nearly every top actress in Hollywood."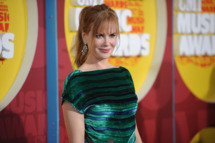 Nicole Kidman: Really stocking up on roles this year! She eyed Before I Go to Sleep and landed The Railway Man in the span of a few days about a month ago, she already has Lee Daniels's The Paperboy and Chan-wook Park's Stoker going, and now she's in talks to join Grace of Monaco from French director Olivier Dahan (2007's La Vie en Rose, 2009's My Own Love Song). The film, which comes from a script that showed up on 2011's Black List, centers around Grace Kelly in her sixth year as princess of Monaco. "Nearly every top actress in Hollywood chased the demanding yet coveted role," Variety writes. Now we want to know who lost out to Kidman.