Nurse From Empty Nest Running for Senate
Remember Park Overall?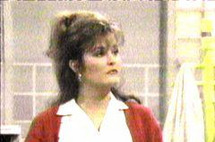 Reality TV stars have been slowly inching their way into politics — witness the Real World's Sean Duffy, now a congressman from Wisconsin, or mull over the gubernatorial ambitions of Rupert Boneham from Survivor — but it's time to reclaim our elected offices for the people who really deserve them: actors! NBC Saturday night sitcom veteran Park Overall, who played sassy Southern nurse Laverne on the 1988-1995 show Empty Nest, is running for senator in Tennessee, where she hopes to represent the Democratic party against Republican incumbent Bob Corker. "Somebody had to do it and if nobody else will do it, I will do it," Overall said, explaining that she was galvanized by the conservative war on contraception. "I'm a good Democrat and there doesn't seem to be one around. I'm going for broke." Good luck, Park! And if Jackee and the deacon from Amen want to get involved, too, we're all for it.