One Direction and The Wanted Came This Close to a Standoff
But One Direction tried to run away.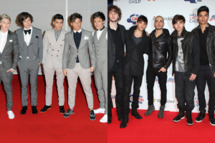 There is really very little that Vulture can add to this magnificent TMZ report, so lets just go right in: One Direction learned that rival British boy band The Wanted were about to show up at the same rehearsal studio, and they ("all of them except Liam") panicked. According to a source, "The One Direction lads talked about the guys from The Wanted being tough guys (which apparently is true) and they were worried about getting taunted and manhandled." The 1D boys tried to run away, but The Wanted arrived before they could make an escape. (This, we assume, is when the aggressive snapping started.) The bodyguards stepped in: "The security team for The Wanted spoke with security for One Direction and discussed One Direction's fears." Then The Wanted's security guards chatted with their dudes, and Max (the hot one from the Wanted) "bolted into the studio where One Direction was wrapping up, laughed and gave Liam (he's from One Direction) a hug." So everything's cool for now, but be warned: There is trouble in Boy Band Land. Tensions are bubbling; the battle is nigh. Do you know which side you'll be fighting for?