Rebel Wilson's Super Fun Night Casts Its Final BFF
Edi Patterson joins Wilson and Jenny Slate.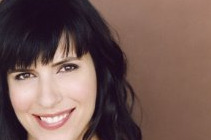 Edi Patterson, of the Groundlings, Curb Your Enthusiasm, and Weeds, is joining the recently cast Jenny Slate to round out a trio of BFFs at the center of Rebel Wilson's upcoming CBS comedy Super Fun Night. The Australian Wilson, a memorable scene-stealer ("I thought it was a very sad handwritten book") in the catalogue of memorable scene-stealing that was Bridesmaids, is writing the show, which will feature the ladies challenging themselves to have massively fun Fridays nights week after week. With the casting sorted out, Super Fun Night can move toward trying to top the two-dozen-plus think-pieces HBO's Girls garnered across the media. It's already on Vulture's Ten Most Promising Pilots docket, so that's a strong start, we'll totally not objectively submit.