Robert Downey Jr. Claims He's Shooting a Secret Avengers Scene Tonight
Even though the film has already premiered.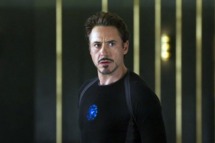 The Avengers premiered last night in Los Angeles to good notices, but according to Robert Downey Jr., the movie isn't even done yet. The star said today at the film's press conference, "We are shooting one more scene. Tonight. Not kidding," before departing the dais; later, director Joss Whedon claimed it was a joke while Marvel Studios head Kevin Feige dodged the question somewhat. If the shoot is happening, it's more than likely for an end-credits tag, as is Marvel tradition; last night's print included one mid-closing-credits scene that teases an Avengers sequel, but might Downey Jr. be shooting an additional post-credits tag to set up the next solo Marvel movie, Iron Man 3? More grist for the mill: Downey Jr. is currently rocking Tony Stark facial hair, even though the principal Iron Man 3 shoot is still months away. Speculate away!