Steve Carell and Jake Johnson to Make a Mob Movie
Hey, you love Jake Johnson.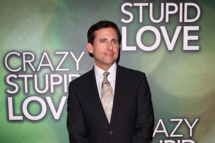 Steve Carell and Jake Johnson: a couple of wise guys? Deadline reports that the former star of The Office and the current star of New Girl are teaming up for a mob comedy to be directed by Max Winkler (who worked with Johnson on his last movie, Ceremony). Warner Bros. brought the expensive pitch, though the story line is being kept under wraps for the moment. Still, it's a change from Johnson's current adorkable-adjacent hot streak: He stars opposite Zooey Deschanel on New Girl, and Aubrey Plaza and Zoe Kazan in the upcoming Safety Not Guaranteed and The Pretty One, respectively. Do you think Steve Carell could rock some bangs and a cute shift dress?