What Is Steve Carell's Mob Movie About?
"It's not <em>Goodfellas</em>, it's not <em>The Godfather</em>, it's not set in the usual place, and they're not ethnically based."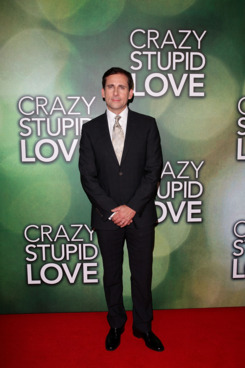 As Vulture reported last week, Steve Carell and Jake Johnson are teaming up for a mob comedy to be directed by Max Winkler. Details on the story line have been kept mostly mum, but at the Tribeca Film Festival premiere of The Five-Year Engagement, we got some scoop from co-writer/producer Rodney Rothman: "That's a comedy basically about the rise of a small-town mafia," he told us.
"It's about a group of people who decide to start a mafia, totally fictional, but it's the origin story of a mafia. It's not Goodfellas, it's not The Godfather, it's not set in the usual place, and they're not ethnically based — they're not Irish, Italian, Russian, whatever. At some point, every mafia, someone has to say, 'Hey, let's start a mafia!' So that's kind of what the movie is about. They're just people in a small town who are feeling powerless and down on themselves." The appeal, he adds, is that "the mafia story is part of the mythology of our country." And he assures us that Carell will be funny in it. "He'll be hilarious. He's kind of playing his own version of Michael Corleone. We just started to write that, so we'll probably be shooting that early next year."