Taylor Lautner Eyeing Adam Sandler's Grown Ups 2
He wants to get chocolate-wasted.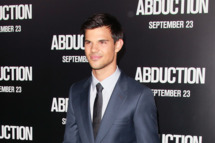 Taylor Lautner has finally picked a Twilight follow-up. The actor flirted with a number of projects after wrapping the franchise last year, but THR reports that he's in negotiations to appear in the sequel to Grown Ups, which will reunite Adam Sandler, Kevin James, and the rest of the 2010 comedy's cast. Though the size and shirtlessness of his role is unknown, the film should give Lautner a bona fide non-Twilight hit after the disappointing gross of his bid for action stardom, Abduction, which earned only $28 million last fall.