There Will Be One Final Season of Fringe
Producers will get the chance to wrap up all those twisty story lines.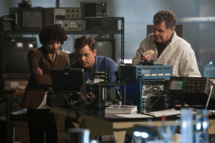 Fans of Fringe, fear not: There will be another season of the show, and there will be closure. Fox just announced that it has ordered a fifth and final thirteen-episode season of the J.J. Abrams thriller for this fall — check out the trailer here — which means the show will end with its 100th episode. The renewal isn't a complete shocker: While Fringe only averages a few million viewers on Friday, it's one of the most heavily time-shifted shows on TV, regularly increasing its audience by more than 60 percent once DVR viewing is tallied.