It Sure Sounds Like TLC Is Planning a Hologram Reunion Tour
Technically, it will just be a projection of Left Eye.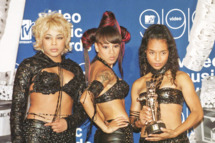 Let's be clear: The plans for TLC's twentieth anniversary reunion tour, as reported by TMZ and Billboard, are centered on archival footage of the late Lisa Lopes rather than on a digital re-creation of Left Eye (who died ten years ago yesterday). Technically, the word hologram — in the Ghost Tupac sense — does not apply. But yes, T-Boz and Chili are reportedly planning a "massive" tour that will include projections of Left-Eye and use her vocals in the live performances. So far they have five major cities booked, according to TMZ, with more dates planned. Anyway, TLC fans, do a close-read of your Hologram Tour Pool rules — if "projections" count, you maybe just hit the jackpot.