Matt Zoller Seitz Reviews Veep
Julia Louis-Dreyfus stars as the slightly loopy vice-president.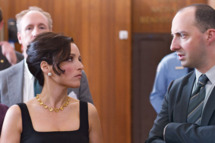 Julia Louis-Dreyfus takes office this Sunday on Veep, HBO's new political comedy in which she plays the slightly loopy vice-president. New York's TV critic Matt Zoller Seitz says the show could be in the vein of the network's other shark-tank comedies like "The Larry Sanders Show, Curb Your ­Enthusiasm, and the brilliant, short-lived Lisa Kudrow­vehicle The Comeback," but it doesn't quite live up to that standard. "The first three episodes of Veep don't suggest we're going to see those series' depth and poignancy," he says. "For all its madcap goofiness, Veep doesn't say or add up to much." Click here for the full review.