Joel McHale Thinks Chevy Chase Will Stay on Community
"My guess is he'll be back if we're back."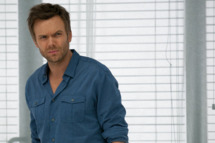 It's still not clear whether Community will be renewed by NBC for a fourth season, but if it is, will Chevy Chase be willing to come back after his public feud with creator Dan Harmon? Journalists put the question to Joel McHale today at an NBC event, who acknowledged, "He obviously wasn't very happy. But he loves the cast, my guess is he'll be back if we're back." Even though Chase complained that the show isn't funny? "He says that every day," explained McHale. "And we say, 'Well, it's not Karate Dog.'" (The cast has long razzed Chase for his participation in the direct-to-video talking dog movie, and four of his co-stars even named their team "Karate Dog" for Vulture's Community pop-culture battle.) As for those leaked voice mails of Chase blasting Harmon, McHale joked, "There's four more voicemails coming out that will make it a full series. It's going to be a book on tape. It's going to be read out loud by Samuel L. Jackson."