Will Ferrell and Mark Wahlberg's Next Comedy Has Its Team
It's <em>3 Mississippi, </em>from Sean Anders and John Morris.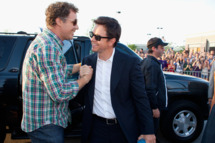 Will Ferrell and Mark Wahlberg's follow-up to The Other Guys, a football comedy now titled 3 Mississippi (we liked Turkey Bowl better), will see a rewrite from Sean Anders and John Morris, with Anders tapped to direct. The duo have been involved with Hot Tub Time Machine, Mr. Popper's Penguins, and, according to IMDb, the recently mostly confirmed Dumb and Dumber sequel's screenplay. Anders directed Adam Sandler and Andy Samberg's upcoming That's My Boy, as well. Wahlberg has been stocking up on so much work that his "I would've stopped 9/11" moment already feels like a distant memory, while Ferrell has Anchorman 2 on the way. The Hollywood Reporter writes that 3 Mississippi, which should begin production this autumn, "tells of the feud between two families over an annual Thanksgiving touch football game that has existed for 50 years," with Ferrell and Wahlberg playing the opposing coaches.