2 Chainz Arrested for Carrying What May or May Not Be Brass Knuckles
LaGuardia's security team maybe doesn't know a cool piece of jewelry when they see one.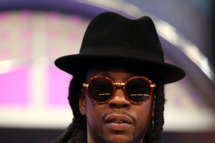 Recently ubiquitous rapper 2 Chainz was taken into custody at La Guardia earlier today after a security check of his carry-on turned up what police determined were brass knuckles. Of course, there are always multiple interpretations when it comes to accessories. According to a tweet by Big Sean, who did a shoot with 2 Chainz earlier this week, the item in question is actually "a 4 finger ring that spelled hood."