The Twenty Most Titillating Works at Frieze Art Fair
From French horns with guacamole in them to sculptures made from cheap umbrellas.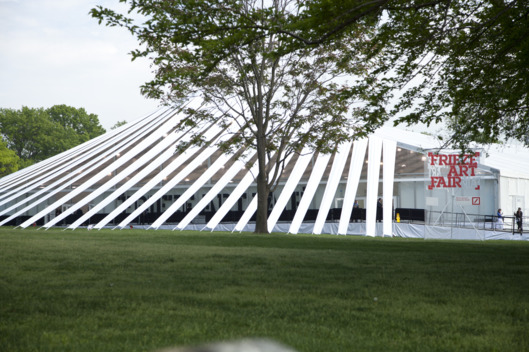 From May 4 through 7, artists, art dealers, collectors, VIPs, and long lines of lookie-loos mingled on Randall's Island as the first New York incarnation of London's Frieze Art Fair finally opened to the public. The tent itself, designed by SO-IL, made wonderful use of the island's landscape and created an enticing dialogue with the natural light; there were some marvelous outdoor installations, including a singing-sound piece tucked among the trees; and the views of Manhattan were just plain awesome. But the fee to enter the actual tent ($40/$25 reduced) was pretty steep, which certainly limited access to entrants who weren't likely to buy anything. Luckily, we were able to get a peek inside the tent; here are the twenty most titillating things we discovered.
BEGIN SLIDESHOW