Ask Girls' Christopher Abbott Anything
Vulture is interviewing him tomorrow.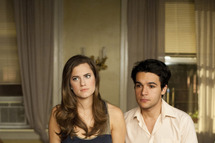 Last we saw on Girls, Charlie was getting dumped by Marnie mid-sex. But are those two really kaput? And what does that mean for the future of his character? Vulture will get into that with Christopher Abbott, the actor who plays Charlie, when we interview him tomorrow afternoon. But before we do, we're inviting you, dear reader, to tell us what you want to know. Share your questions in the comments below by noon EST tomorrow (May 17), and we may include them in the mix.