Cameron Diaz Now Linked to The Counselor
Is Angelina Jolie out?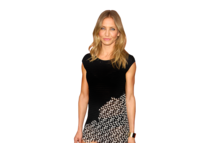 So much for those hopes that Brangelina would reunite onscreen for Ridley Scott's The Counselor: Angelina Jolie is out and Cameron Diaz is in to play a sexy supporting role as the temptress to star Michael Fassbender, Twitch reports. Still, Pitt remains in the cast, as does another pair of real-life lovebirds, Javier Bardem and Penélope Cruz. Good luck, Cammy D!