Carrie Underwood Scores Second Week at No. 1
It's her third No. 1 album.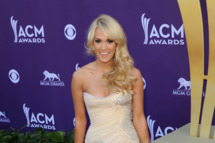 Carrie Underwood's fourth full-length, Blown Away, is atop the Billboard chart for a second consecutive week, notching another 120,000 copies sold. Though that's roughly a 55 percent dip in sales, this is Underwood's first album to win for more than a single week. (And her third career No. 1.) Also, Adele's "mom-friendly" 21 boosted, in Billboard's estimation, thanks to Mother's Day.