Channing Tatum Rendered Speechless at Peabodys
By force, not by choice.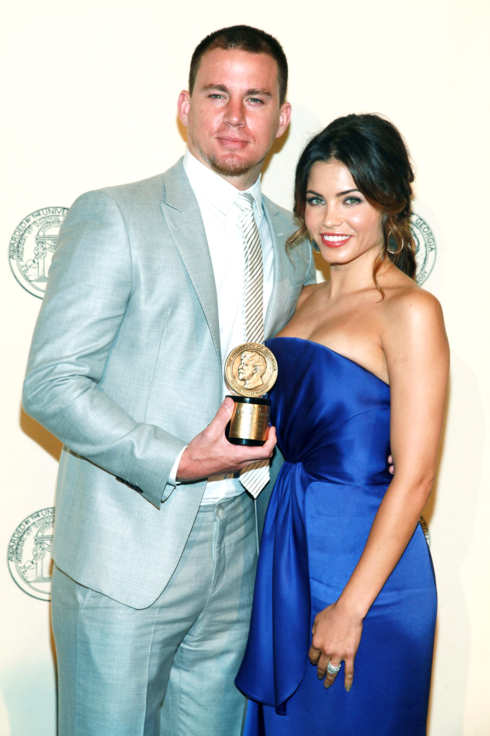 When Vulture ran into the actor turned producer, his wife Jenna Dewan-Tatum, and Deborah Scranton, the writer-director-producer of the award-winning movie they produced together, Earth Made of Glass, about the Rwandan genocide, we tried to congratulate Tatum for his multi-hyphenate roles and abilities exhibited in the past year alone. After all, this summer he's turning his stripper past into a Steven Soderbergh movie and he's reasserted his action-hero abilities in the G.I. Joe franchise — not to mention the romances (The Vow) and comedies (21 Jump Street) he's so aptly carried. Top that with the Peabody for Glass — an honor usually associated with the highest of highbrow — and Tatum's moved up to a whole new level. When we pointed that out, the actor-producer smiled, and started to say, "This has been so nice ... " when Scranton interrupted him, by saying (what else?), "I'm going to interrupt him."
"Chan and Jenna, they both do work that's very important and very inspiring," she said. "Without them, this film would never have happened." "Oh, that's sweet!" Channing said to her in response. "Thank you. I really appreciate that."
But when we tried to ask Channing once more about his honor, he started to answer, "Yeah! And ... " when Scranton (again) wouldn't let him answer. "No!" she insisted. "That's just a superficial question!" After chiding us for asking whether he was proud of his award, she answered for him, "No, dude. He should be proud of it." Looking embarrassed, Tatum mouthed, "It's okay" to us while Scranton continued to try to answer for the couple. "They are serious as well as obviously huge Hollywood stars," she insisted. "Their hearts and minds are in a good place, as well as being insanely Hollywood superstars."
That only made Channing more embarrassed — so Jenna stepped in for him. "It's nice to be recognized for a project that we feel that we're really proud of," she said. "I think [the film] has a great message for everyone who watches it, and it's nice to just get that awareness out. And the Peabody is like the utmost, one of the utmost respected awards to get, so we're very happy and honored to be here. We had a great time on this one!"
"And we'll do it again!" Channing chimed in. So next time, let him speak.