Chloe Moretz Circling Zombie Drama Maggie
More undead projects for Chloe.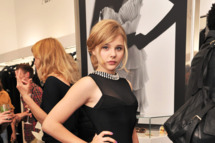 Undead enthusiast Chloe Moretz is considering a switch from vampires to zombies, according to Variety. She's in talks for Maggie, a 2011 Black List script about a father-daughter relationship in the midst of a zombie apocalypse. (Spoiler: One of them develops a taste for brains.) Also, if anyone is sitting on a script about a mummy uprising, Chloe seems like the girl to send it to.