Win a Signed Community Poster
Ken Jeong will sign five Chang rally posters.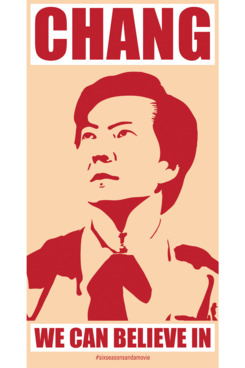 Are you one of the Changlorious Basterds? Tonight, NBC's Community continues where last week's episode left off, with Chang and his army holding the school in their child-size fists after deposing the dean in a coup. To note this historic and labor-law-defying transfer of power, Vulture is giving away five Chang We Can Believe in Posters — signed by Señor Chang himself, Ken Jeong. To win, bust out your Dean Pelton–level puns and wordplay to give us your best Chang Army recruitment slogan in the comments. Submit your entries by 8 p.m. Eastern tonight, and we'll announce our five winners on Monday (the day after NBC announces next year's schedule, so fans will either be celebrating the show's renewal or planning their own coup — of NBC). Click here for the official rules, and happy Changing.