Madonna Performs Lady Gaga's 'Born This Way'
Madge invites you to consider once more whether or not Gaga ripped her off.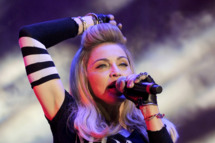 If Madonna has a movie and an album dropping, she will remind you about that with a Super Bowl halftime show. If Madonna's going on tour, she'll alert you to that by re-reigniting the copycat controversy surrounding Lady Gaga's "Born This Way" — about a minute into this rehearsal footage of "Express Yourself," Madge segues into Gaga's hit. Stand by for so many comments from both singers.