D'Angelo Comeback Update: He Speaks
In <em>GQ</em>.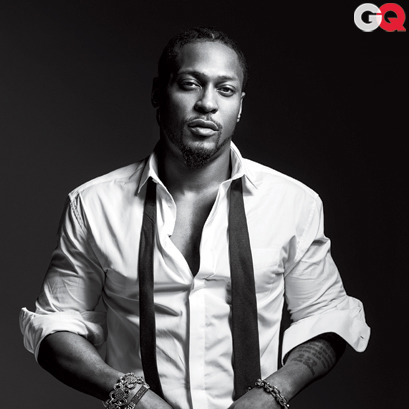 Settle in, friends, because GQ just released a long, must-read interview with troubled R&B superstar D'Angelo — his first in twelve years. Chris Rock, Questlove, and Angie Stone all pitch in on backstory, and there are also some vague updates on an album (he's got a bunch of songs; his team is pushing for a 2012 release). But it's the D'Angelo quotes you're here for: his Pentecostal upbringing, the dark period after "Untitled," his dreams about Marvin Gaye — there's plenty to unpack. Highlights below.
On his first, failed attempts at rehab in 2005:
"I went in under a fake name so people wouldn't know who I was, right?...So, you know, Michael never got treatment. It was this other character that was in there. And the moment I left, I went straight to the fucking liquor store."
On the death of J Dilla:
"I felt like I was going to be next. I ain't bullshitting. I was scared then," he says, recalling how shame engulfed him, preventing him from attending the funeral. "I was so fucked-up, I couldn't go."
On his last dream about Marvin Gaye:
"I was following him as a grown man," he tells me. "He was a bit heavier, and he had the beard. He was naked, and all I could see was his back and that cap he used to wear all the time. And he got into this whirlpool Jacuzzi with his wife and his daughter and his little son, and that's when he turns around and looks at me. And he goes, 'I know you're wondering why you keep dreaming about me.' And I woke up."

On the inspiration for the famous "Untitled" video, which director Ryan Hunter claims was about "[D'Angelo]'s grandmother's cooking":
The video may have looked like foreplay, but it was actually about family, Hunter insists—about intimacy. Later, when I tell D'Angelo this, he says, "It's so true: We talked about the Holy Ghost and the church before that take. The veil is the nudity and the sexuality. But what they're really getting is the spirit."
On the reaction to "Untitled," and his reinvention as a sex symbol:
"One time I got mad when a female threw money at me onstage, and that made me feel fucked-up, and I threw the money back at her," he says. "I was like, 'I'm not a stripper.' ... He recalls a particular moment onstage at the North Sea Jazz festival in 2000. The band was in the middle of "Devil's Pie," his song about the spell fame casts upon the weak — Who am I to justify / All the evil in our eye / When I myself feel the high / From all that I despise — when he felt an ominous presence in the crowd. "That night I felt something that was like, whoa."