Ever After Is Headed to Broadway
No Drew Barrymore. Yet.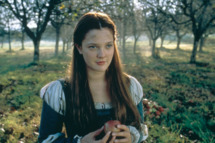 And your next movie-to-musical extravaganza will be Ever After, the 1998 real-life-Cinderella movie that put Drew Barrymore in glass slippers and fairy wings. The show is slated for the 2013–2014 season; Kathleen Marshall will choreograph and direct. Barrymore is in no way attached, but frankly, can you think of a better post-baby comeback for the Daisy Queen? Vulture cannot.