Fox Dates Robopocalypse, Apes, X-Men Sequels
They're all coming out in 2014.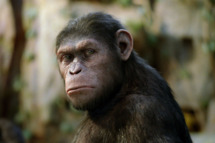 Already over the 2012 summer movie season? Let Fox fast forward to 2014: The studio announced today that in addition to bumping Steven Spielberg's Robopocalypse back a year to April 25, 2014, the sequels to Rise of the Planet of the Apes and X-Men: First Class will come out on May 23 and July 18 of that year, respectively.